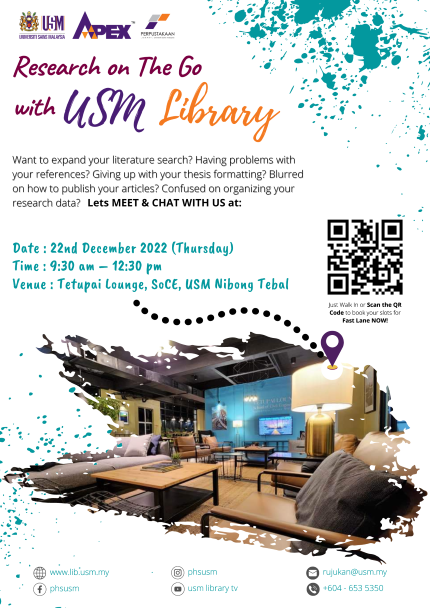 Assalamualaikum Wrt. Wbt. dan salam sejahtera.
Sukacita dimaklumkan bahawa Perpustakaan USM akan mengadakan program "
Research
on
The
Go
with

USM

Library

" siri 2 seperti ketetapan berikut:
Tarikh : 22 Disember 2022 (Khamis)
Masa :9:30 pagi – 12.30 tengah hari
Tempat : Tetupai Lounge, Pusat Pengajian Kejuruteraan Awam,
Kampus Kejuruteraan, Universiti Sains Malaysia
Objektif utama program ini adalah untuk mendekatkan Pustakawan dengan pelajar Ijazah Lanjutan /Penyelidik /Pensyarah USM bagi memberikan konsultasi secara bersemuka berkenaan rujukan & bibliografi, pencarian bahan, template tesis, penerbitan dan lain-lain perkara dalam menyokong penulisan tesis / kajian penyelidikan mereka.
Sekian, terima kasih.
Assalamualaikum Wrt. Wbt. and greetings.
We're pleased to inform that USM Library will be organizing "ResearchonTheGowith USM Library" series 2 as follows:
Date : 22nd December 2022 (Thursday)
Time : 9:30 am – 12:30 pm
Venue : Tetupai Lounge, School of Civil Engineering, Engineering Campus,
Universiti Sains Malaysia
Themain objective of this program is to bring our Librarians close to USM Postgraduates /Researchers / Lecturers to provide face-to-face consultation regarding references & bibliography, material searches,thesis templates, publications, and other matters in supportingtheirthesis writing /researchactivities.
Thank you.